All on 4 Dental Implants Applecross
Can just 4 implants replace all the teeth on the upper or bottom jaw? Thanks to modern advances in dental implant technology, that answer is a resounding YES.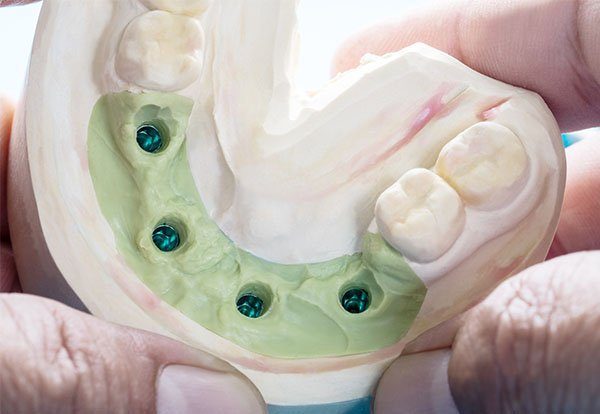 All on 4 dental implants are designed to replace your entire upper or lower set of teeth and act as a more permanent and natural-looking alternative to dentures.
Traditionally, each dental implant has one titanium screw inserted into the gums.
Then, the dentist places a single replacement tooth to the screw. With All on 4 implants, you don't need to replace each lost tooth individually.
Instead, a dental professional will surgically insert 4 titanium posts into your jawbone as the anchors. They can then attach a permanent restoration to those four areas for a seamless look in your entire mouth.
The prosthesis will permanently stay in your mouth and look just as natural as your own teeth.
Benefits of All on 4 Dental Implants
Many patients gain renewed confidence with All on 4 dental implants.
This option offers several benefits that allow patients to enjoy their smile for a lifetime, including:
You can replace your whole set of missing teeth in just one day with a single surgery.
The implants are permanently secured to your mouth, so that they won't loosen or shift.
The procedure restores the entire set of teeth with only 4 implants.
All on 4 implants cost less than replacing each tooth individually.
You won't typically need any bone grafting.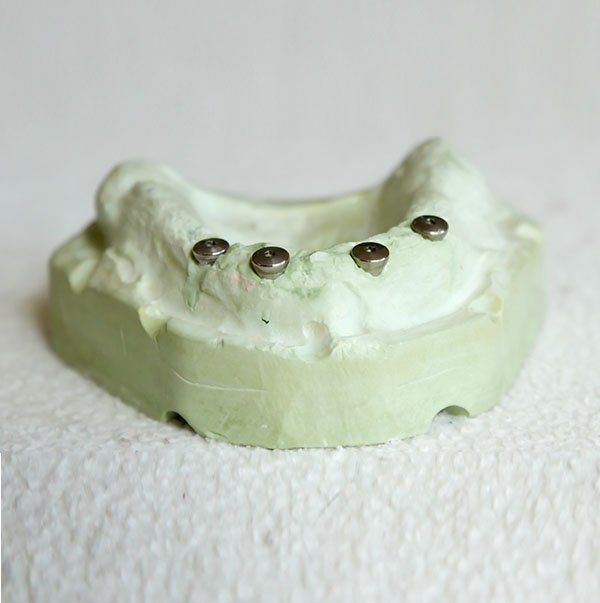 The All on 4 Dental Implant Procedure
It can be terrifying to undergo dental surgery for the first time. Most of that fear is probably due to uncertainty.
Here's the procedure for getting All on 4 implants.
First, your Applecross dentist will make sure you are relaxed.
Next, your mouth is then prepared for the implants. This involves removing remaining failing teeth and diseased or infected tissue from your jaw and gums.
Then, the dental implant process starts. Titanium posts will be attached to your jawbone.
Most likely, they will place two anterior implants and two posterior implants so the "anchors" can evenly bear the force of the denture.
After the implants have been attached, the surgical sites are cleaned, and all the incisions are sutured. You'll be taken to a recovery room where you can relax and take time to wake up.
Living with All on 4 Dental Implants
After your dental implant surgery, you can clean the site by gently rinsing your mouth with saltwater. Then, you can treat your dental implants just as you would your natural teeth.
Brush and floss daily, and continue to get regular cleanings from your dentist.
Before your procedure, your Applecross dental team will go over more specific oral hygiene instructions that best meet your health needs.
All on 4 Dental Implants in Applecross
If you have lost a full arch of teeth from decay or injury and are overwhelmed with the teeth replacement options, you may enjoy the benefits that All on 4 dental implants can provide.
For more information on All on 4 dental implants in Applecross, call us on (08) 9316 0555.
We are located at 729 Canning Hwy in Applecross WA.
Frequently Asked Questions
How long do I recover from an All on 4 dental implant procedure?
Recovery time for traditional dental implants typically ranges from 3 to 8 months, but with All on 4 implants, you'll likely recover much sooner. An All on 4 system can fuse to your bone more easily than individual implants, promoting better stability.
Will my results look natural?
Absolutely. The All on 4 dental implant system gives you permanent teeth that look, feel and work just like natural teeth. No one will know you have dental implants unless you tell them.
How do I clean my dental implants?
Dental implants should be cleaned like your natural teeth; daily brushing and flossing is recommended. Our dental team will review oral hygiene instructions with you and recommend the most appropriate oral hygiene treatment plan that will fit your needs.