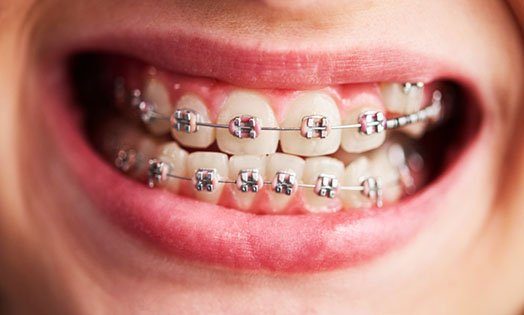 Braces Applecross
Dental braces are wire-based appliances that correct crowded and misaligned teeth or jaws.
Many people who need braces get them during their early teenage years, but adults also can benefit from wearing braces.
The main goal of braces is to properly align your teeth and jaws to produce an even bite and pleasing smile.
Benefits of Braces
There are several benefits to getting braces. Having straight teeth helps not only with a beautiful smile but also your overall oral health.
Some of the amazing benefits of braces include the prevention of tooth decay, gum diseases, cavities, dental erosion, injury, and bad bites.
Improve your oral health
Help you with digestion
Prevent jawbone erosion
Boost your confidence
Improve your speech
How Braces Work
Initial Consultation Appointment
The initial consultation is when the patient and the dental professional discuss all the patient's treatment options. Your Applecross dentist will perform an oral examination to determine the oral problems that need to be addressed. They will also take a mould of the patient's mouth. Once a choice is made, they can be attached afterwards.
Attaching the Braces
Attaching the brackets on the teeth using special dental glue is the first step. A wire is then run through each bracket, which may be shaped in a certain way to ensure that the teeth are moving in the ideal direction. For dental patients diagnosed with bite problems, rubber bands are also attached to the braces to place more pressure on specific areas of the jaw and/or teeth.
Adjustments
The braces require regular adjustments from a dental professional to work. Patients need to make it to all their adjustment appointments. There must be constant pressure on the teeth for the braces to work, making adhering to the adjustment schedule an extremely important part of the process.
Retainers
Once the braces have done their job correcting the smile and are removed from the mouth, the patient should wear a retainer to ensure that the teeth do not move out of their new and correct position. The time required in wearing a retainer varies from patient to patient, with an average amount of time being 12 months.
Braces in Applecross
If you're ready to get started with braces and straightening your smile, then schedule a consultation today!
Book your braces treatment consultation in our Applecross office today — simply contact us online or call (08) 9316 0555.
We are located at 729 Canning Hwy in Applecross WA.
Frequently Asked Questions
Do I really need braces?
If your dentist recommends braces, you probably need them. You can always ask your Applecross dentist how necessary they are, but remember that getting braces is not just about a better smile.
Having straighter teeth also helps keep you healthier and can prevent dental and jaw issues.
Do braces hurt?
You should never feel pain while wearing braces. If you do, call us right away. When you first get your braces, and after adjustments, your teeth can feel a little sensitive. Mild discomfort is easily managed with over-the-counter pain relievers and goes away in a few days.
How often will I need to come in for visits while I'm wearing braces?
The frequency of your visits will depend on your needs. In general, most patients visit us for adjustments between every four and eight weeks.
Will my teeth move after my braces are removed?
Your teeth may slightly move over time, making retainers an important part of your treatment. Your Applecross dentist may give you a removable retainer or attach a longer-term retainer behind your teeth – out of sight.