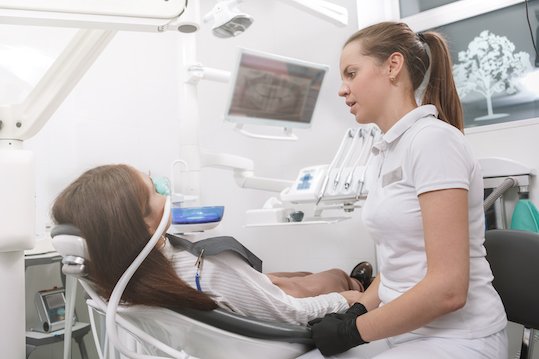 Sedation Dentistry Applecross
We understand that some people find dental treatment very stressful or even downright terrifying.
Although we strive to make our patients as relaxed and comfortable as possible, for some patients, no matter what we do they will not be able to relax enough to have dentistry done without assistance.
We feel there should be no reason for a patient to put off having essential dental treatment and you would be surprised how many patients elect to have this extra assistance.
We encourage patients to disclose any fears they have to our trained staff to make sure they are offered sedation and that little bit of extra comfort and support.
Thankfully at our practice we have several ways of managing dental fear and the correct type of sedation is generally matched to the patient depending on their previous dental experiences and the level of anxiety that surrounds their treatment.
It is not uncommon for an adult patient to be quivering in the dental chair while their children in the next surgery are happily receiving their dental treatment without a care in the world.
It is extremely important to set a good example to your children to make sure they too receive necessary dental care without having a fear of the dentist. If using sedation to help overcome your fear, it can be a wonderful way of making sure your children do not take on your dental fears.
Inhalation Sedation
For those that are moderately anxious or for patients with an involuntary gag reflex, we can the use of Nitrous Oxide sedation. In the past this has also known as "happy gas". It can help lower the anxiety level enough to make the procedure far more pleasant.
Some patients comment that if they had known that it was that good they would have come sooner. The best thing about Nitrous sedation is that it is relatively cheap. The technique involves placing a small mask over the nose and having the patient breathe in and out.
This still allows the dentist to perform the dental treatment without slowing the procedure down, which can also benefit the patient.
Intravenous or "IV" Sedation
Intravenous sedation is used in cases of extreme anxiety or where intensive surgical procedures need to be performed. It is sometimes called "twilight sedation" or "sleep dentistry".
Intravenous sedation involves a doctor placing a needle in the hand of the patient and infusing drugs continually to keep the patient at a steady relaxed state.
Because this involves using a medical practitioner it can be a costly exercise for patients. For this reason we try to do only the most difficult of cases using this method and move patients to nitrous oxide sedation where possible.
It is not uncommon for patients with extreme anxiety to have their initial few treatments using IV sedation to then progress to having smaller treatments with Nitrous sedation and then no sedation at all.
Most patients are extremely proud of this shift in their dental fear, which is then helps with any maintenance dental treatments in the future.
General Anaesthetic Treatments
Although this is the least common form of sedation, your Applecross dentist is accredited at two-day surgery facilities both North and South of the river for patients with extreme dental fear.
General anaesthetic dental treatments are only used if the patient is deemed a healthy candidate by your Applecross dentist, the anaesthetist and day surgery unit.
If you have a previous history of the anxiety of dental treatment, call your Applecross dentist and enquire if these techniques may be suitable for you.
Sedation Dentistry in Applecross
Before starting any treatment, your Applecross dentist will take time talking with you and together you'll decide which sedation option is right for your needs.
If you have any questions about sedation dentistry in Applecross, we are happy to answer any questions and also schedule you an appointment.
Please contact us today at (08) 9316 0555.
We are located at 729 Canning Hwy in Applecross WA.
Frequently Asked Questions
What is sedation dentistry?
Sedation dentistry is the use of sedative drugs to relieve mild to severe anxiety, as well as keeping patients relaxed during long dental treatments.
Who needs sedation dentistry?
You may want to consider sedation dentistry if you have the following conditions:
A deep-rooted phobia of the dentist resulting in anxiety or panic attacks
Fear of needles
Overly concerned about pain
Difficulty sitting still for an extended time
Undergoing a long procedure
Difficulty getting numb from anaesthesia
Gag reflexes
Very sensitive teeth and gums
Nauseous by the smell of a dental office
Is sedation dentistry safe?
Yes! Sedation dentistry is a safe and effective way for patients to receive dental treatment.