Crowns, Bridges & Veneers
Crowns, Bridges & Veneers Applecross
One of the first steps to getting your oral health back on track is knowing what treatment you may need.
Learn about the differences between dental crowns, bridges and veneers, and how each can help you get your beautiful smile back.
What is a Crown?
The crown is the top part of the tooth that is visible to us. A dental crown treatment is a manmade replacement for the natural tooth that sits over it like a protective cap.
For the crown to be able to sit over the tooth, the outer surface of the tooth is carefully removed to create a post.

If the length of the post cannot be made long enough, it is possible for a small metal pin to be inserted to create the necessary strength the new crown requires to successfully protect the tooth.
What is a Bridge?
A bridge is a series of crowns (usually three or four) that are joined together to replace missing teeth.

It is necessary for the teeth on either side of the missing tooth or teeth to be prepared down for the crown to be inserted over the top of them for anchorage.
Like a single crown, it involves carefully removing the outer surface of the tooth to create a post.
What is a Veneer?
A veneer is an artificial cover that can be placed over the front surface of the teeth. Veneers are used to improve aesthetics or to protect teeth. Poor aesthetics can include discolouration of the tooth, wear and chipping from grinding or trauma.
Some people want to merely change the colour of the teeth in a permanent manner without having to whiten their teeth. This is a wonderful way of creating a wonderful brilliant smile.

Before any veneers are placed, it is important for patients to be happy with the colour of their teeth as once inserted, the ceramic cannot whitened. We recommend all patients thinking about having veneers to consider teeth whitening first to help decide the correct shade of their new smile.
Contact the team at (08) 9316 0555 to request a consultation to find out if veneers are right for you.
When Do I Need a Dental Crown?
A crown is made to replace or cover your natural crown when the original has been badly broken down. This breakdown can be because of tooth decay, trauma or cracking of the original tooth. This breakdown can also include previous treatments to a tooth such as a root canal treatment.
When a tooth becomes weakened by one of these scenarios, leaving it as is will result in the eventual total breakdown of the tooth, and the need for extraction.
Before and After Crowns and Veneers – Gallery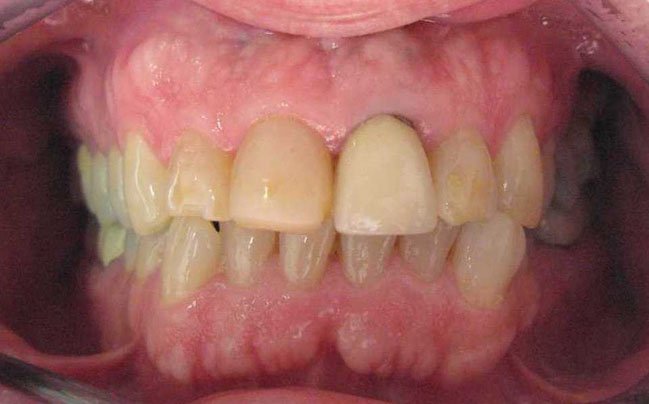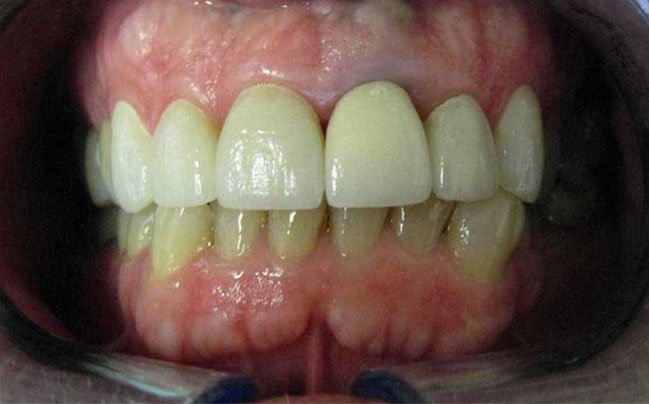 After – New Crowns & Veneers
What are Crowns and Bridges Made Of?
Some of the earliest materials used for crowns were metals. In some instances, we may still use gold as a material for crowns. The material is very long-lasting and malleable. As it is not an aesthetic material other options are available.
Porcelain can be baked onto a gold substructure for an aesthetic version of a crown. These have been available for many years now and are still used by some dentists. As technology has progressed, the need to have a metal substructure has gone. The metal underneath can make these crowns not as aesthetic as natural tooth as teeth are much more translucent.
Crowns and bridges made entirely of ceramic material are the most aesthetic alternative as they allow light to pass through the tooth. In our practice, all crowns are made entirely of ceramic due to its superior aesthetics. We use the latest CEREC CAD/CAM technology to create ceramic crowns.
What are Veneers Made Of?
Veneers in our practice are all made of ceramic as this is the most stable material. It provides optimum aesthetics for many years. In comparison veneers made of plastic do not have this stability and will discolour and stain.
Crowns, Bridges & Veneers in Applecross
Cosmetic dental treatments such as crowns, bridges and veneers in Applecross not only improve the look of your smile but also promote better chewing and improved confidence.
If you have any questions about our services, we are happy to answer any questions and also schedule you an appointment. Please contact us today at (08) 9316 0555.
We are located at 729 Canning Hwy in Applecross WA.
Frequently Asked Questions
What is a dental crown?
A dental crown is a "cap" used to restore teeth without actually removing or implanting any teeth.
What is a dental bridge?
A dental bridge is used to fill in the missing space caused by one or more lost teeth. It is made up of one or more false teeth with one crown on either end of the bridge.
What is a dental veneer?
A dental veneer is a wafer-thin coating of porcelain or composite material which is used to cover the surface of a tooth.
What's the best way to restore teeth?
Each of these treatment options has its pros and cons, and your Applecross dentist will help you decide the right choice for you. Contact your Applecross dentist today!