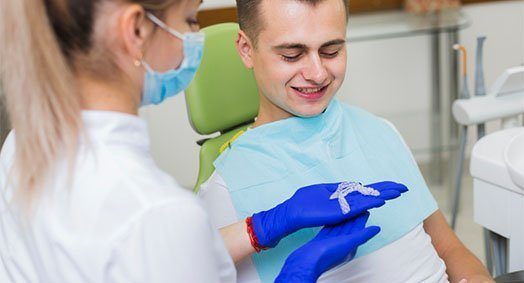 Retainers Applecross
When you're finished with orthodontic treatment, your Applecross dentist will provide you with a retainer to keep the teeth in place.
That's why it's called a retainer: it retains the movements achieved by your orthodontic treatment!
How Retainers Work
Since a retainer is made from a sturdy material, your teeth cannot move or shift; therefore, they stay aligned.
A lingual wire works the same. By being bonded to the teeth, the thin metal holds all teeth securely.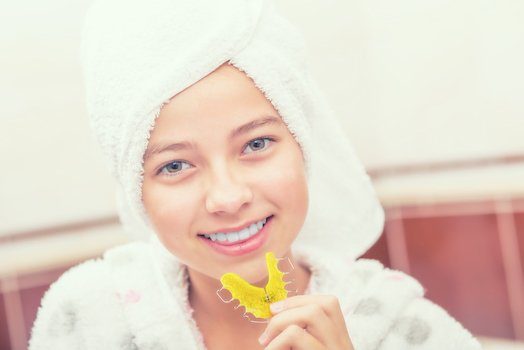 How Long Do You Have to Wear a Retainer
Most people will wear retainers regularly for the first 6 months after orthodontic treatment.
After this, wearing the appliance only while sleeping is required. Lingual wires are always worn since they are permanently attached in place.
Care Instructions
Proper care of your retainers is very important. Excellent oral hygiene is a must.
Here are a few simple tips for removable retainers:
When you are not wearing them, your retainers should be soaking to keep them moist and clean.
Water alone won't deep clean your retainers. Try a small amount of baking soda, which will clean them naturally while killing bacteria.
Your retainers need regular brushing. Gentle brushing does not damage your retainers, and it is crucial for removing tartar build-up.
Remember that consulting with your dentist is the best way to decide which type of retainer is best for you. With the right guidance, you'll find the perfect option for your teeth and your lifestyle.
Retainers in Applecross
Epsom Dental Care Applecross provides high-quality orthodontic retainers out of durable and non-invasive materials.
For more information on retainers in Applecross, call us on (08) 9316 0555.
We are located at 729 Canning Hwy in Applecross WA.
Frequently Asked Questions
Is wearing retainers painful?
Discomfort is usually normal when you start wearing retainers: the mouth needs ample time to adjust to the new appliance. Discomfort should be gone quickly. If you experience pain or discomfort, contact your Applecross dentist as the retainers may not be fitting properly.
How long do I need to wear my retainers?
The longer you wear the retainers, the better for your teeth. Teeth can shift any time: humans use their teeth every day, and regular wear and tear cause shifting.
Can a tight retainer damage my teeth?
Yes. Wearing a retainer that no longer fits your teeth can damage them. If you are having trouble putting them in your mouth, don't force it: contact your Applecross dentist about getting a new retainer.