Dental Implants in Applecross: Should You Shop Around?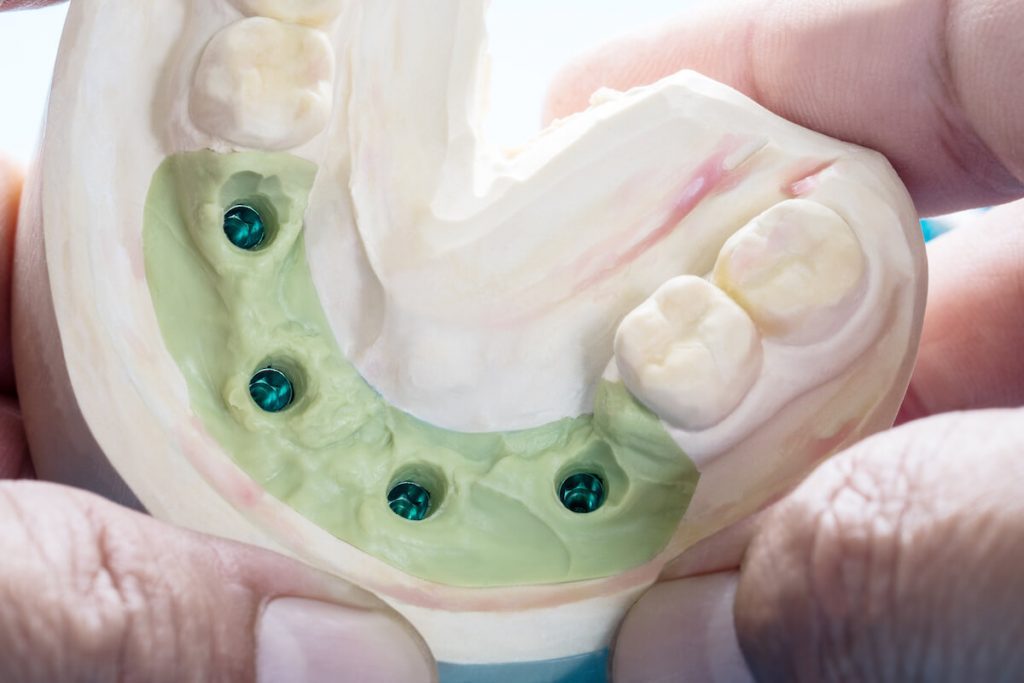 You may have considered dental implants an option if you have lost teeth. But, you may have noticed that they appear to be rather costly.
While implants may appear costly at first, they prove pretty cost-effective over time. They're also the best dental replacement option for lost teeth.
Alternatives to Dental Implants
Bridges and dentures are the two main alternatives to implants. While both have a place in tooth replacement, neither is as comprehensive as implants.
Dental bridges
are exactly what they sound like: a 'bridge' across a missing tooth, supported by both sides' teeth.
Bridges, however, require the teeth on each side of the gap to be cut down and crowns to support the bridge.
Dental bridges sit above the gum line, allowing the gums and bone behind them to atrophy due to lack of stimulation.
Dentures (traditional)
can be used to replace numerous lost teeth or all of them. They help to maintain the shape of your smile by supporting facial muscles.
However, the gums and jawbone degenerate without any underlying support due to a lack of stimulation from the tooth roots. Receding gums, bone loss, and facial shape deterioration are frequent outcomes.
Dentures also have the following drawbacks:
Irritated gums
Sliding and slipping
Difficulty speaking
Difficulty chewing
Inconvenient sucking or clicking noises
Reduced food taste
Implants avoid these issues since they stimulate the gums, produce no noise, are secure in place, are easy to clean, prevent bone loss, keep the gums healthy, and support the face.
This saves you several hours of further treatment in the future, and unlike dentures and bridges, they seldom need to be replaced!
Dentures and bridges also have hidden expenses that become apparent over time. It requires specific care and cleaning — cleaners, adhesives, and carrying cases. You might be astonished at how much it accumulates over time.
Dentures and bridges can also get worn, damaged, or shattered. And before they may be replaced, dentures may need to be relined, altered, or mended.
Bridges have 5 to 15 years, whereas dentures have a lifespan of 5 to 10 years. As a result, the cost of replacement must be considered.
Dental implants are frequently the most cost-effective alternative considering all care, repair, and replacement expenditures for a lifetime.
Dental implants require no additional maintenance beyond your regular dental hygiene routine. They're also permanent, so they won't need to be fixed or replaced until something goes wrong.
Should I Shop Around for Dental Prices?
At Epsom Dental Care Applecross, we understand that your money is valuable, but we also understand that dental implants are an investment. The money you pay now will be repaid afterwards. As a result, concentrating just on pricing might be a disastrous strategy.
Here are a few things to consider.
#1. Be wary of extremes, both high and low
Excessively high or low implant costs should be avoided. Low costs may indicate that the dentist prioritizes volume over quality. Prices for more costly treatments may be higher.
Look at typical market prices to see if a practice charges you a reasonable fee. Also, keep in mind that no two implants are the same, and some may require additional procedures (e.g. bone implantation).
Your dentist should explain why a dental implant estimate is as high as it is.
#2. Consult your insurance provider
Although you will undoubtedly pay some of the treatment costs out of pocket, more and more insurance policies are now covering tooth replacement. Always double-check with your insurance company to see what they may cover. Your dental office might be able to assist you with this.
#3. Choose a dentist you can rely on
This is a critical point. Your dentist should be knowledgeable, professional, and kind. You want your implants that would last a lifetime, restoring your smile, bite, and dental health.
Epsom Dental Care Applecross Experience
Your Applecross dentist makes your visit as pleasant and as pain-free as possible.
We aim to provide the best possible dental care corresponding to our patient's financial situation.
Our solutions are fast, efficient and practical.
For further information–contact us online or call (08) 9316 0555.
You can also visit us at 729 Canning Hwy in Applecross WA.