Teeth Whitening or Veneers – Which is Best for You?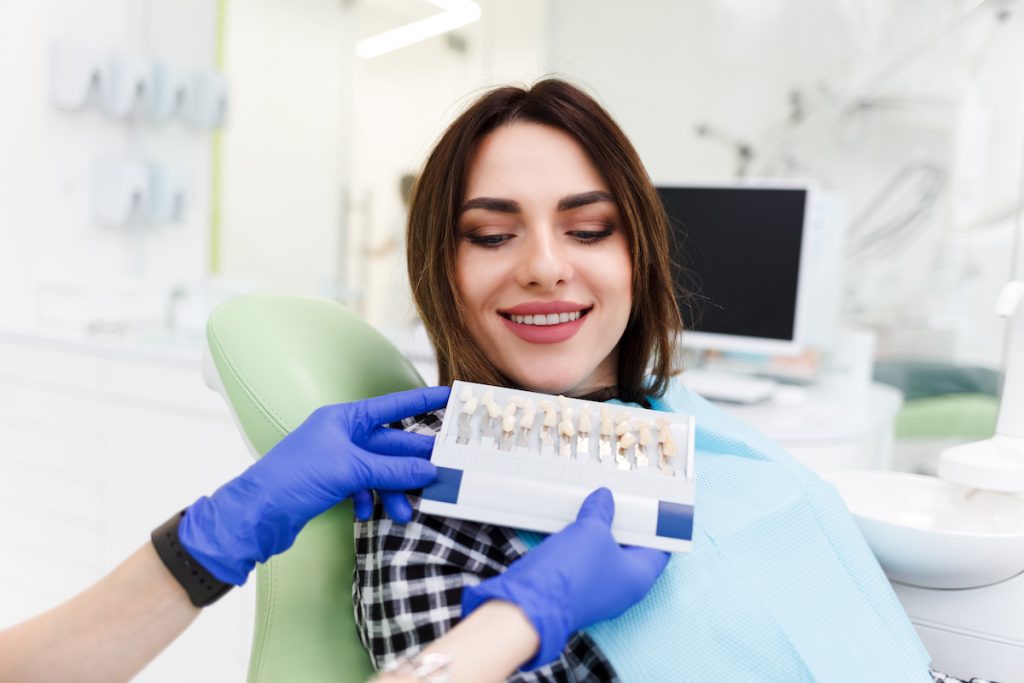 Two of the methods that dentists use to enhance the appearance of your smile are teeth whitening and veneers.
Both of these approaches aim to remove or conceal imperfections, allowing patients to enjoy a boost in confidence and improved oral hygiene.
Many patients ask which is better, but it really depends on the situation and the set of teeth in question.
We'll guide you through both to help you decide which option is best for you.
Teeth Whitening
Having your teeth professionally whitened by a dentist is the simplest and cheapest way to achieve a brilliant smile.
While there are many whitening products available in stores, professional in-chair whitening or take-home whitening is far safer and it provides quick and effective results.
There are two different whitening procedures:
#1 In-Chair Whitening
In-chair whitening takes place in the controlled environment of the dentist's office.
Your dentist will apply special bleach to your teeth and place a protective layer over your gums to prevent irritation.
The process is often repeated or sped up using strong lights or a warming lamp.
#2 Take-Home Trays
The dentist gives you a special guard with the bleaching agent inside. The guard fits nicely onto your teeth, allowing the whitening process to take place at home.
Some patients prefer this option as it's cheaper and it allows them to whiten their teeth in their own time rather than spending a session in the dentist's office.
Is Teeth Whitening Right for Me?
You need to have a healthy set of teeth in order to be a candidate for professional teeth whitening.
The hydrogen peroxide in the bleaching gel will cause severe pain for patients with tooth decay or gum disease.
Whitening works very well on teeth that are mildly discoloured or yellow due to lifestyle habits like drinking or smoking.
If discolouration is more severe or you have other dental flaws such as minor chips and cracks, you may be better off with veneers.
Whitening won't change grey coloured teeth or any fillings that have discoloured over time.
Dental Veneers
Veneers are artificial covers that are placed on the front surface of the teeth.
They are made from ceramic and are used to protect teeth or for aesthetic purposes.
They're a far better option for patients who have severely discoloured teeth that can't be concealed with whitening treatments.
Others prefer to use them over whitening treatments because they offer a permanent solution.
Are Veneers Right for Me?
Veneers are great for masking imperfections such as crooked or misaligned teeth.
They're the most effective treatment for concealing multiple imperfections and they are ideal for hiding damage that was caused by grinding or physical trauma.
Getting veneers is a big decision. The process is more costly and complicated, generally taking place over several appointments.
Patients need to be satisfied with the appearance of their veneers before they're placed, as the ceramic cannot be whitened afterwards.
Better Smiles at Epsom Dental Care Applecross
If you're considering cosmetic dentistry, you should seek advice from an experienced dentist to determine which option is best for you.
For dental advice and services in Applecross, visit Epsom Dental Care Applecross.
We use the latest technologies to provide effective teeth whitening treatments.
Contact us today to discuss teeth whitening options or for everyday family dental care.
If you have any questions about our services, we are happy to answer any questions and also schedule you an appointment. Simply contact us online or call (08) 9316 0555.
We are located at 729 Canning Hwy in Applecross WA.