What is a Dental Implant?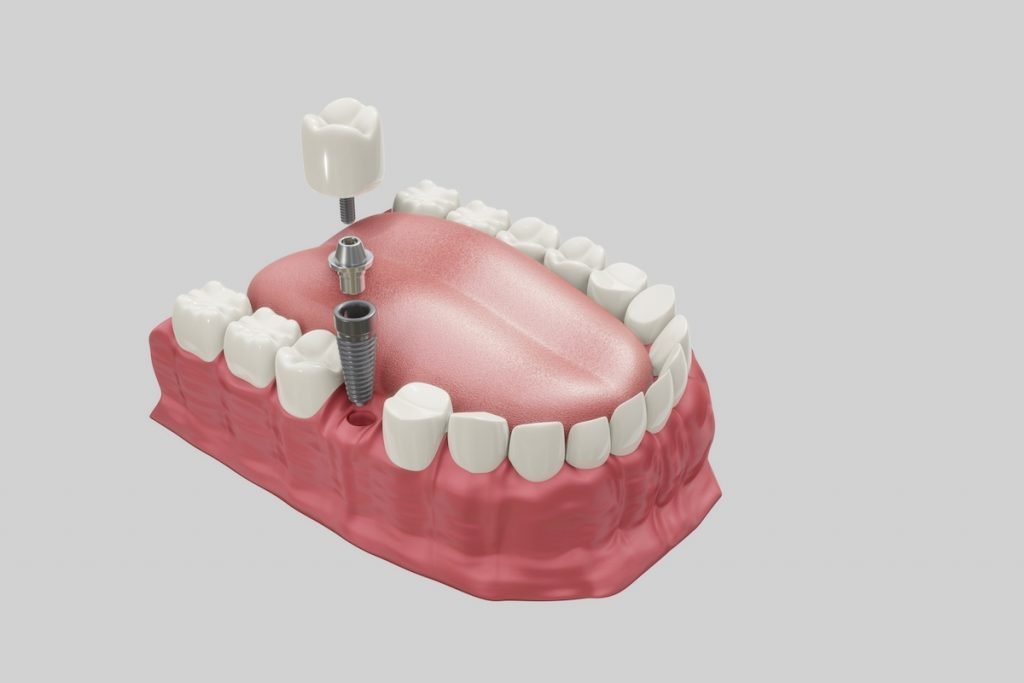 A dental implant is an orthodontic anchor that supports a replacement tooth or denture.
This titanium fixture is integrated into the jawbone through a process known as osseointegration.
Once the dental implant has fused together with the jawbone, a dental prosthesis is fitted over it to replace a missing tooth.
The entire process can take up to one year depending on how long the bone takes to heal after surgery.
The results are permanent and offer more benefits in comparison to traditional dentures.
Components of a Dental Implant
A dental implant has 3 components namely; the titanium screw, the abutment and the crown or replacement tooth.
The crowns or dentures can be either removable or permanently fixed to the abutment with the help of dental cement.
The number of implants you will require will depend on the location and number of teeth missing.
All on 4 dental implants give you the option to acquire a whole set of teeth with the support of only 4 implants.
How is Dental Implant Surgery Done?
To insert a dental implant into the jawbone, the surgeon will have to create a small pocket of space in the jawbone.
The implant will be left to integrate with the jawbone for a couple of months.
Although the surgery is invasive, there are many pain-free dental techniques used to keep the patient comfortable during the procedure.
Patients will also be prescribed pain-killers to help with the recovery process.
Why Get Dental Implants?
Once a tooth is extracted from the mouth, the underlying jaw bone has nothing to stimulate it. This lack of stimulation leads to atrophy.
If there's a significant amount of bone loss, the dentist will have to recreate parts of the jawbone by grafting bones from other parts of the patient's body.
This will increase the duration of teeth replacement therapy but it will also protect the appearance of your face and cheeks.
Are You a Good Candidate for Dental Implant Surgery?
Dental implant surgery can be carried out on young adults and the elderly. It can't be performed on people using chemotherapy drugs to fight cancer.
It's also not recommended for patients suffering from diabetes because of the long healing process.
To prevent additional complications, patients are also asked to refrain from smoking in the weeks and months that follow the surgery.
Unlike traditional dentures, dental implants don't shift in your mouth or cause you any speech problems.
You'll be able to enjoy the foods you love eating and you'll feel confident about yourself.
Better Smiles at Epsom Dental Care Applecross
If you have any queries about dental implants in Applecross contact our trained staff at Epsom Dental Care Applecross.
We are the experts in general and family dental care.
Whether it's tooth extraction, teeth whitening, wisdom teeth removal, teeth straightening or tooth filling, we do it all at our modern practice.
If you have any questions about our services, we are happy to answer any questions and also schedule you an appointment. Simply contact us online or call (08) 9316 0555.
We are located at 729 Canning Hwy in Applecross WA.