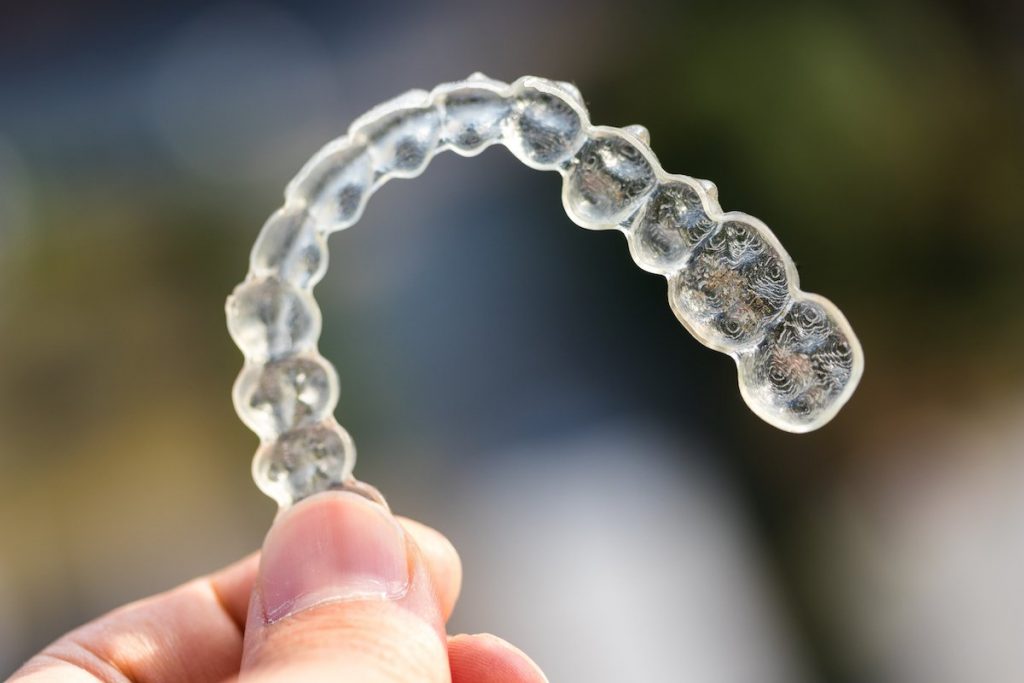 ​Braces and Invisalign are both orthodontic appliances that straighten uneven teeth.
Each device comes with its own pros and cons and you should learn more about each of them in order to make an educated choice.
Braces have been used much longer than Invisalign trays.
They comprise of metallic wires and brackets that sit on the surface of the teeth. Elastic bands are used to secure the wires to the metallic brackets.
Although these are the most common and affordable of all braces available, they aren't the most aesthetically appealing.
Clear braces are a better alternative for those who are conscious of their appearance. Clear braces consist of ceramic or plastic brackets and transparent wires.
They're not as durable as metal braces but they offer the same great results.
Lingual Braces
Lingual braces are metal braces fixed on the inside of the teeth, so they don't show when you smile or talk.
Since these braces are custom-designed, the patient might have to wait a little longer while the braces are manufactured.
Lingual braces are not ideal for people who have a narrow jaw because the brace needs to fit in the space between the teeth and the tongue.
Invisalign
Invisalign are cosmetic braces that are completely invisible when worn.
They consist of clear plastic trays that are entirely removable. Like metallic braces, Invisalign can correct a host of bite problems.
The aligners need to be replaced every 2 weeks and have to be worn for a minimum of 22 hours a day.
When fixed by professional orthodontists, Invisalign aligners offer you the same results as traditional braces.
They sometimes need to be used along with attachments so that teeth move into the desired location.
These attachments are made of tooth coloured composite resin so they're not as visible as metal brackets.
Invisalign offers many benefits but it's more expensive when compared to traditional braces. Moreover, Invisalign can't always rectify back tooth bite issues.
Lastly, patients who fail to keep their aligners on for the specified timeframe may see slower results.
Choosing the Right Dentist
The success of orthodontic treatments largely depends on the skill and expertise of the dental practitioner.
Since you'll have to visit the dentist regularly during the course of treatment, you must make sure you choose a dentist you're comfortable with.
Also, look for a dentist who has been trained in the use of multiple teeth straightening devices.
Experienced dentists will understand how simple or complicated your case is and they will be able to guide you in your choice of braces.
If you're looking for an experienced dentist in Applecross, visit Epsom Dental Care Applecross.
We take the stress out of your dental visit by offering you the latest pain-free dental treatments at reasonable prices.
Better Smiles at Epsom Dental Care Applecross
Our friendly team offers an exceptional standard of dental health services.
We cover all general and family dental needs like dental braces, tooth extraction, wisdom teeth removal surgery, teeth whitening, dental implants and smile makeovers.
We also accept emergency dental appointments, so if you're ever in unbearable pain, don't hesitate to give us a ring.
If you have any questions about our services, we are happy to answer any questions and also schedule you an appointment. Simply contact us online or call (08) 9316 0555.
We are located at 729 Canning Hwy in Applecross WA.